Air conditioners are an essential part of a comfortable lifestyle. Unfortunately, they are not designed to last forever. They need timely repairs to run efficiently and if you suspect your AC is on the fritz, these are the signs that you should look for to replace your air conditioning system:
#1. You're calling frequently for repairs
Regular maintenance is necessary for the efficiency of your HVAC system. However, if your AC unit needs repair more often, you should consider replacing it. The replacement will cost more than the repair, but in the long-run, it will be a more cost-efficient option. If you don't replace your AC, chances are you'll be spending more on costly repairs and energy bills.
#2. Your unit is over 10 years old
If your Air Conditioning unit is more than 10 years old, you consider replacing it. According to Energy.gov, if your air conditioner is ten years old, you can save 20-40% of your cooling energy costs by replacing it with a newer, more efficient model.
#3. Poor Air Flow of your AC unit
Clogged AC filters and ducts can impede the airflow of your AC unit. Take a cloth to clean AC filters and ducts to improve the efficiency of your AC unit. Moreover, you should replace the AC filters every 1-3 months or as per the manufacturer's instructions. However, if there is an issue with the compressor or bigger problem with ducts, it's time to contact Instant-Air professionals and get your AC unit fixed or replaced.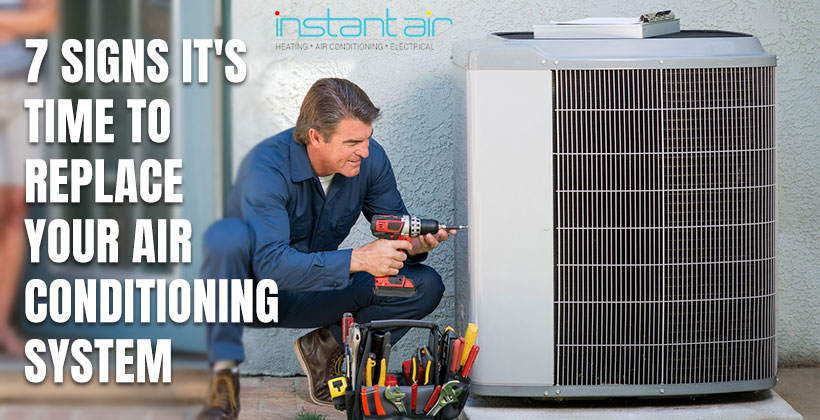 #4. There's a leakage in the AC Unit
Condensation around the AC unit is normal but it should remain minimal. If there is a coolant leakage in excess or you notice large pools of water around the AC unit, call the Instant-Air HVAC experts immediately. Excess water leaking from your unit can ruin your furniture and flooring while exposed coolant poses a hazard risk for you and your family.
#5. Spending More on Bills
A fluctuation in your energy bills during the change of seasons is common and normal. However, if you notice bigger energy bills at a significant rate, your system might be telling you that it's time for replacement.t's best to call Instant-Air professionals to properly diagnose your system.
#6. Unexpected Sounds
As you've been using your AC unit over the years, you can easily recognize the unusual sounds. Generally, the AC units run with very little noise at all. However, if any strange sound catches your attention, something doesn't sound right, and it's time to call in a technician.
#7. Bad Smells in the house
A musty smell is an indicator of mold potentially growing inside your unit. Breathing unhealthy air from a dirty HVAC system can lead to many types of illnesses. When in doubt, call your local professionals and get your AC unit checked. A strong smell could indicate that a wire is possibly burning and needs immediate attention. Turn off the circuit to your HVAC system and call the professionals at Instant-Air to repair or replace your system right away."
If you've noticed one or more of these signs, it's time to seriously consider replacing your AC unit. Schedule an appointment with us and we'll help you through the process.