"Before the cold weather hits, it's recommended to get your furnace inspected to keep it in good running order and prevent it from conking out when you need it most."
Your furnace is the heart of your home. It makes your space habitable in the cold winter nights. To keep your furnace in proper working order, you must follow proper furnace care instructions and schedule inspections. Regular inspection of furnace is ideal to know everything is working perfectly.
According to furnace manufacturers and installers, a yearly furnace inspection will prolong the life of your HVAC system, help prevent major breakdowns, save on your energy bills, and decrease health risks.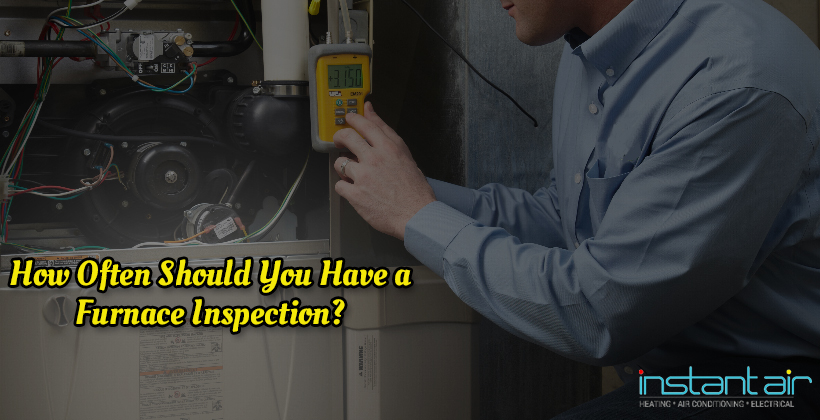 Why you must have regular furnace inspection?
According to the HVAC experts,"75% of no-heat calls in the winter are related to a lack of maintenance." Ignoring regular maintenance of furnace can affect the efficiency of the heating system – it can stop working suddenly, leaving your family in the cold. As winter is approaching, it's time to schedule your furnace inspection appointment.
Some of the benefits of regular furnace inspection are:
Expose small repairs – Neglecting proper maintenance of furnace can result in major repairs in the future. You may need to pay higher hourly rates if a problem occurs during the winter. Regular maintenance can help you detect and fix small issues on time, extending the life of your furnace.
Maintain efficiency – Just like any other machinery, your furnace also has moving parts. Not maintaining or repairing them regularly can result in wear and tear of parts, affecting the efficiency of your heating system. A certified HVAC technician can inspect, clean, lubricate, or replace the parts of your system so that your system can operate efficiently.
Reduce heating expense – Just as proper service of your car can improve its mileage, similarly, a properly-tuned furnace will run more efficiently, thus reducing your heating bills. The more the furnace will be tuned, the lesser the fuel it will need to generate more heat.
Keeps your furnace warranty intact – In many cases, an annual furnace inspection is necessary to keep the manufacturer's warranty intact. Even those who don't require furnace inspection, it's recommended to schedule furnace inspection to keep the system's warrant intact and maintain furnace to prevent it from failing.
How much does a furnace inspection cost?
A regular furnace tune-up may cost you anywhere between $80 – $100.  However, if any sort of repair is needed, it may cost you more depending on the repair.
An HVAC maintenance professional will:
Clean the furnace properly to improve its efficiency and save on energy bills.
Check all the heating system controls for safety, offering you peace of mind for the rest of the season.
Inspect electrical elements and their connections and test voltage on the system components to prevent any component failure in the future.
Lubricate moving parts.
Inspect the condensate drain for clogging.
Check system start-up and shutdown controls for proper operations.
Inspecting, fixing, and replacing filters and ducts for better performance of furnace.
For every tune-up, Instant-Air HVAC professionals make sure that your system runs at its peak operating performance.
Hire the right HVAC technician
Furnace is necessary to keep your home warm and cozy in cold days. To keep them running at their peak performance, it's necessary to hire the right HVAC professionals. We at Instant-Air understand that a broken furnace can lead to tremendous inconvenience. We specialize in state-of-the-art solutions, including furnaces, boilers, heat pumps, and ductless or ducted mini-split systems and offer top-of-the-line repair, replacement, and maintenance services by highly trained technicians. We also provide a free energy savings analysis to make sure you are not spending more than you should. We value our customer's comfort, time, and satisfaction. It's our priority to serve our clients in Southern New Jersey with the utmost care and dedication.
To get prompt, accurate, and affordable heating services, book your appointment today!