HVAC (Heating, Ventilation, and Air Conditioning) company ensures thermal comfort and appropriate indoor air quality in your house. Your HVAC system needs regular maintenance, at least once in a year to run smoothly and efficiently.  In this case, you will need an HVAC repair South Jersey Company to maintain your HVAC systems. Choosing an HVAC company is daunting, however, with these tips in mind you'll always choose the best HVAC Company:
#1. Licensing and Experience
HVAC equipment is expensive, one of the most expensive equipment in your house. Therefore, you need to make sure the contractor taking charge of your HVAC system is licensed and experienced. The licensing for contractors in the HVAC industry is mandatory in some areas, and even if it is not in yours, you should check it at your level. Apart from the licensing, experience is also essential.
Although not all experienced contractors are good, long-term business stability is a positive sign. Apart from experience and licensing, you can also look for certifications if you want to make sure the HVAC Company you are hiring is trustworthy and properly trained. Some standard certificates for HVAC Companies include:
EPA 608 Certification
MSCA (Mechanical Service Contractors of America) STAR Certification
If you need fast and reliable HVAC repair and maintenance in Southern NJ, you can contact Instant-Air. Our licensed and trained technicians will come to your home and take care of your HVAC system completely. We understand the discomfort in extreme temperatures when you require an HVAC repair, so we are always sure to aide you as quickly as possible.
#2. Insurance coverage
If an HVAC company does not provide general liability insurance and worker's compensation coverage, don't bother hiring them. The general liability insurance can help you file claims if the worker does some damage to your property. The worker's compensation coverage protects you if a worker gets injured while working at your property. Therefore, always ask for insurance coverage before hiring an HVAC repair Delaware Company.
#3. Local Building Codes
This point is crucial if you are looking for an HVAC installation. You should make sure the HVAC installation NJ Company has a comprehensive understanding of the building codes of the city.  Additionally, the HVAC Company should have the essential knowledge about the legal requirements for operating HVAC equipment.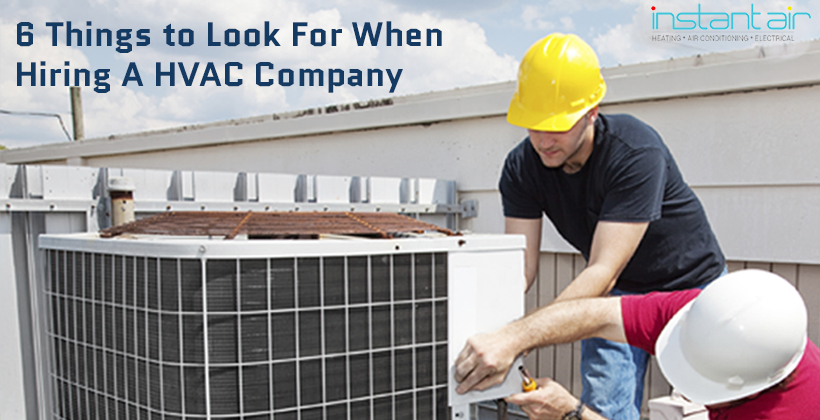 #4. Latest Tools and Technology
If you want to hire an HVAC company, you want the work to be done quickly. To do so, you need to find an HVAC service NJ that uses the latest tools like anemometers, leak detectors, and vacuum pumps, etc. Additionally, the contractor should have the parts available on-demand. The last thing you want is a contractor that takes half a week to get the missing part.
Moreover, the HVAC Company must be equipped with the latest, cutting-edge technology. Some technologies a good HVAC company should use are:
Mobile devices for accessing work orders and other project-related tasks.
GPS and fleet management systems
Quick invoicing and payments
By equipping Instant-Air technicians with the latest training and tools, we can provide you with prompt, accurate, and affordable HVAC maintenance services.
#5. Energy-Consciousness
When it comes to big projects, the project costs can go quite high. Energy expenditure is one of the leading culprits in increasing the cost of a project. Although the price of gas or electricity can't be controlled, their expenditure is certainly in your control. The right HVAC repair NJ Company can help you reduce these costs. Our contractors will install energy-efficient equipment and adopt energy-efficient methodologies to reduce the overall cost of the project.
#6. Prioritize Safety
Safety is a paramount concern when an HVAC repair or reinstallation process takes place. Experienced commercial HVAC NJ contractors prioritize safety to make sure there is no loss to the property and the workforce. Some standard safety measures HVAC companies should take are:
Minimize the hazards of working with refrigerants and electricity
Handle tools safely
Prevent carbon monoxide and refrigerant leaks
Conclusion
The HVAC system of your house is responsible for running all the major mechanical processes. Therefore, it is essential to give it the required attention and get it checked regularly. If your HVAC system is more than a decade old, consider replacing it. If it is newer, get it checked up for any damages or problems. Most importantly, take your time to do some research and hire the best HVAC NJ Company, Instant-Air.