Fall and winter are around the corner, and everybody has started preparing for it by saying goodbye to the shorts and tees. The same way you prepare for the winter by replacing summer clothes with warmer layers, it is essential to take some necessary measures to save energy as well.
If you have not yet realized, cooler temperature and colder precipitations can have a significant impact on your overall energy bill. Harsh winds, wet snow, and crisp frost, any significant weather change and can have a big impact on your energy bills. Here are a few energy-saving tips you can utilize to save some money this winter.
#1.  Seal the Windows
Sealing up the windows is the right call in all seasons, but it becomes a necessity during the winters. Lower temperatures and strong winds can replace the warmth in the house with cold air. Feeling cold inside the house will result in you spending more hours with the heater switched on, therefore increasing the energy consumption. So, seal up the windows to keep your home naturally warm.
#2. Heater and Boiler Maintenance
Boilers and water heaters are machines that require regular checkups. Before the winter season kicks in, get in touch with your Instant-Air professionals and get your HVAC system checked. They'll make sure your boilers and heaters are working at maximum efficiency. If there are some efficiency issues, our NJ heating and cooling professionals will assist you with the solution. If you ignore getting your heating system checked, you can lose a significant amount of money in replacement costs.
#3. Air Filter Maintenance
It is necessary to make sure that your air filters are up working properly. Call our air conditioning maintenance experts for an air filter checkup. If the filters are damaged or outdated, our skilled experts will provide the right solution. As a general rule, air filters should be cleaned or replaced on a regular basis to maintain proper airflow and keep your HVAC system operating efficiently. You must replace your dirty filters every year as they can contribute to your rising energy bills.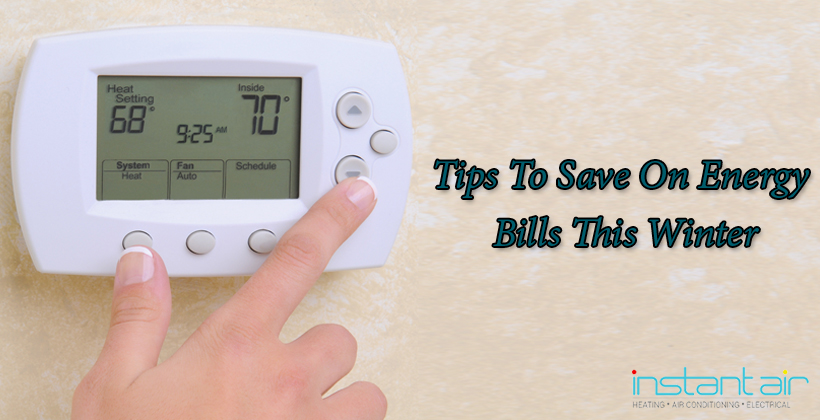 #4. Open the Windows
If you are not sealing up your windows, you can use them the other way around. If you live at a place that gets decent sunlight during winter days, you can open the windows during the day to get the most out of nature's heat. Open curtains and blinds to let the sunlight enter your home. Utilizing natural sources of heat can help you save a decent amount on your energy consumption.
#5. Thermostat Adjustment
Many people don't bother lowering the thermostat during the winters. Ideally, you should lower it when you are feeling sleepy, or you are leaving home for a considerable amount of time. Adjusting thermostat is easy but if you have any issues, you can contact a central air repair NJ contractor to come over and look into your thermostat. We can help identify other problems in your thermostat as well and can recommend the required solutions.
#6. Check your Home's Insulation
When it comes to high energy bills, usually, there is more than one factor responsible for the energy wastage. It is necessary to run a thorough inspection of your home's insulation system to figure out the main issue causing the energy wastage. Possible culprits can be the heaters and boilers or even the thermostat. Additionally, seal up your windows and check whether your walls or doors are aligned correctly or not.
Conclusion
Winters are cool (literally) but they can increase your energy bills. Therefore, before the winter season hits, perform the necessary steps needed to reduce your energy consumption and wastage. Get your house heating system checked by Instant-Air professionals to be sure you're your heating system is running efficiently.