Your HVAC system is one of the most important equipment in your home. No other single system in your home plays a larger role in your comfort than your HVAC system, therefore maintaining its functionality should be your priority. Proper maintenance will not only extend the life of your HVAC unit but also ensure long-term cost effectiveness.
Hire Instant-Air professionals for your HVAC system maintenance. We have been serving homes and businesses for over 17 years and have earned a reputation for excellence in everything we do.
Why should you choose us? 
With so many companies to choose from, it can get difficult to pick the right one. However, if you are looking for a truly comprehensive service that will leave you feeling 100% satisfied, look no further than Instant-Air. We are a dedicated and highly driven heating, air conditioning & electrical company with more than 17 years of experience in the residential & commercial HVAC industry. We specialize in state-of-the-art solutions, including furnaces, boilers, heat pumps, and ductless or ducted mini-split systems.
Here are some of the reasons to choose Instant-Air for your HVAC repair and maintenance services:
Affordable Services
A broken HVAC system for any length of time can be inconvenient and it's important to find an HVAC repair professional nearby, who can perform the repairs quickly and efficiently. By equipping our technicians with the latest training and tools, we can provide you with prompt, accurate, and affordable HVAC services.
Licensed, Certified, and Trained Technicians
Our licensed and trained HVAC experts will come to your home and take care of your HVAC system quickly and efficiently so that you may enjoy being comfortable in your home. Our certified professionals will meet their standards for expertise and professionalism. Our licensed HVAC experts undergo continuing training to ensure that we stay updated on the latest industry developments and products.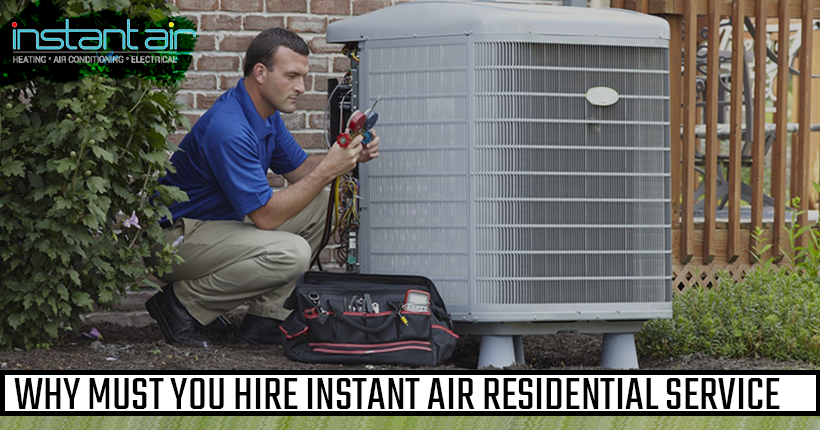 Transparent Pricing
Instant Air is the most reliable HVAC service company in New Jersey and we are prepared to give you a quote before performing the repair so that you know the cost upfront. We don't charge any flat rates. We charge by the job. That means that you'll know earlier how much the job will cost. There's no guesswork on charges and no hidden costs.
100% Satisfaction Guaranteed 
We understand the discomfort that can happen due to the breakdown of your HVAC system so we always ensure to aide you as quickly as possible. Our company values revolve around customer's comfort, time, and satisfaction. It's our priority to serve our clients with the utmost care and dedication. We go extra miles on every single detail to satisfy our clients. We know that our clients deserve a reliable, safe and efficient HVAC system, so we have dedicated our lives to being the best heating repair company NJ has to offer.
Recycle 
"We recycle. We take every element that can be reused to the recycling center."
Your old HVAC system is hazardous waste. It's illicit to leave your old HVAC system in the trash. When installing a new system, our HVAC repair and maintenance professionals will not only remove your old equipment but also haul it away from your home and recycle it for parts.
Annual Maintenance Plans
We also offer annual HVAC maintenance plans and ensure that you don't have to worry about figuring anything out every year. Keeping your HVAC system inspected is a surefire way to keep your HVAC running year after year.
For more information about HVAC services in New Jersey, feel free to reach out to us today at 856-401-7737. We offer a free energy savings analysis to make sure you are not spending more than you should.